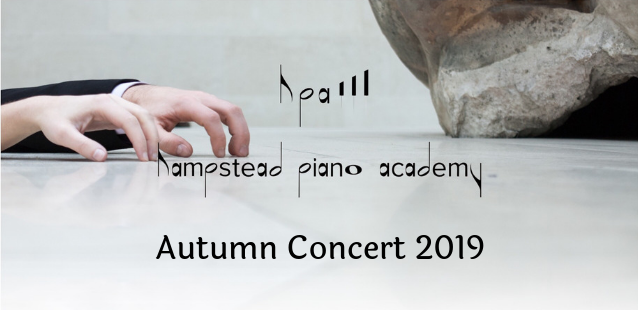 AUTUMN CONCERT 2019
Hampstead Piano Academy will be organizing three events during the 2019/2020 season: the Students Autumn Concert 2019, the Teachers Concert 2020 and the Students Spring Concert 2020.
All of them will take place on a Sunday afternoon at the Burgh House, New End Square, Hampstead, London NW3 1LT.
We would like to invite all students, their families, friends and neighbours of Hampstead to enjoy these events with us.
Autumn Concert 2019
We will celebrate the fact that our students are willing to share their music with others. It takes so much courage to play in front of an audience, so we would be delighted to see you all there to support these brave performers.
The Autumn Concert 2019 will be divided into three performances:
This concert will be the first or second performance for these students. Aged 4 to 8, there will be children playing nursery rhymes, recognizable tunes and some enjoyable pieces from the most popular piano books in UK.
The event will continue with our older students, not quite beginners. They will be performing some of the most enjoyable pieces of the piano repertoire, from Bach and Beethoven to Queen and Elton John, including the required pieces for ABRSM or Trinity syllabus.
The third concert will be the most varied on styles and levels. We will listen to both: some students who have been playing the piano from a very young age and some others who started not long ago. The program will have pieces from Initial standard to Grade 8 and above, and it will also include a short performance by our teachers.
On the concert's day
Each student will be allocated an exact rehearsal time slot prior to their show.
Kids can be dropped off at the venue at their rehearsal's time, although parents are recommended to wait nearby (there is a lovely Cafe at the Burgh House) until the performance starts.
Performers go free, but we would be grateful if attendance is confirmed asap.
Tickets
Guest tickets are limited so please book in advance to avoid disappointment.