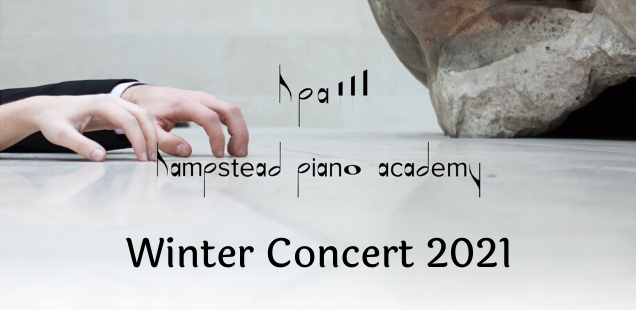 WINTER CONCERT 2021
The second event of the 2020/2021 academic year will be our favorite highlight: Hampstead Piano Academy Students Winter Concert 2021.
This performance will be the best opportunity for us to thank you all for supporting our series of shows.
We feel so fortunate to teach such a special group of students and to create a musical community of piano lovers in the neighbourhood of Hampstead.
We are truly grateful to our pupils and their families for recognizing the value of music in life and for including Hampstead Piano Academy in their children education.
This year has been very busy; full of learning, progress and growth. All performers have worked very hard and we are so excited for them to show you what they can do!
Winter Concert 2021
This afternoon students will perform in three different turns:
These young but brave performers are just starting their piano adventure. Most of them under the age of 7, will be playing in public for the very first time. They will share with us their favorite songs from methods such as D&B and Chester's.
The second show of the afternoon will feature students who already have some experience on stage. They are 9 to 12 years old and have been playing the piano for two or more years. Some of them will be performing the classical piano "hits", and many others will be getting their pieces ready for their ABRSM and Trinity exams deadline.
The grown-ups will be closing the whole event with a mixture of levels and genres of music beyond classical. We will listen not only to the most famous works by Chopin or Mozart but also soundtracks from our favorite movies or the coolest jazz piano themes.
On the day
There will be a warm-up time allocated individually and doors will open to audience 5 minutes before the kickoff. There is a Cafe downstairs and plenty of places for parents to wait around.
Performers are not required to book a ticket, although we would be grateful if attendance is confirmed. Families wishing to stay for the whole event, please get in touch.
Tickets
Get your tickets below and enjoy an afternoon of live music with us.